Honor
ISO-9001-2008
The ISO 9000 family of standards is related to quality management systems and designed to help organizations ensure that they meet the needs of customers and other stakeholders while meeting statutory and regulatory requirements related to the product. The standards are published by ISO, the International Organization for Standardization, and available through National standards bodies.
Norman Pump is produced strictly in accordance with ISO-9001-2008 standard.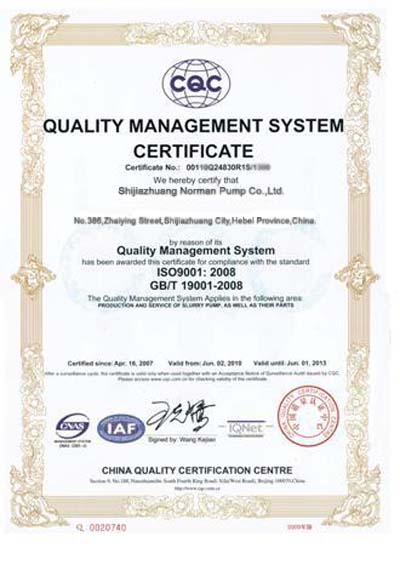 CE
The CE marking or formerly EC mark, is a mandatory conformity marking for products sold in the European Economic Area (EEA) since 1993. The CE marking is the manufacturer's declaration that the product meets the requirements of the applicable EC directives.
Norman Pump is able to export to EU and develop EU market without any obstacle in customs clearance with CE marking.