1. General Description
Norman Small Sand pump is one kind of horizontal centrifugal sand slurry pump, mainly used for small river, lake, pond, pool, etc. sand suction or unloading sand from large dredger.
According to customers' requirements, it can be complete with diesel engine or electric engine to work. Small size and volume is easy to operate, transport and maintain. Operation is very simple. High efficiency, wear resistant and big flow channel suitable for working site with many pebbles.
2. Introduction
Size of inlet: 4 inches,6 inches,8 inches,10 inches;
Material: cast iron, cast steel; Working method: horizontal or vertical
Norman Small Sand pump can be assembled with motor and diesel engine.
Design with open type impeller, wear resistant and big flow, therefore, better non-blocking performance, cross-fiber particles and the adoption of ability.
3. Model Explanation
NSS-6-G
N: our company(Norman)
S: Small
S: Sand
4: Discharge size (inch)
G: Frame type with maximum power
NSS Series Sand Pump
Performance Chart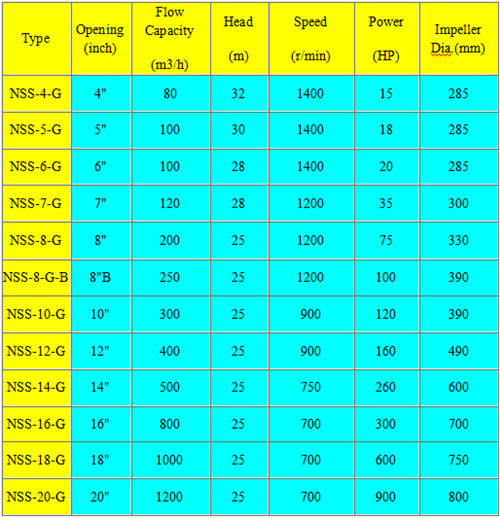 Application
NSS Small Sand Pump are designed for continuously handling the most difficult higher abrasive
slurries, which contain too big solids to be pumped by common pumps. They are suitable
for delivering slurries in mining, explosive sludge in metal melting, dredging in dredger
and course of rivers, and other fields.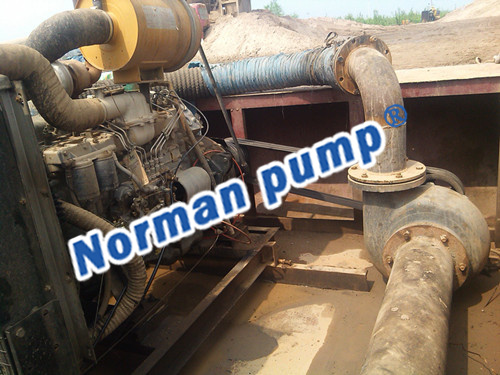 NSS-8-G Small Sand Pump is used in dredging sand from river in Nigeria.