1.General Description
NZJQ series slurry pump is a kind of submersible slurry pump. The coaxial electric motor and pump submerged together into water to work. The wear part of this series pumps are made of high wear abrasive chrome alloy.
The unique sealing device can effectively balance the oil inside and outside to protect mechanical seal reliability, the electric motor adopt protection device, for example, overheating protection testing, water detection protection etc to guarantee working well in worse working conditions for long term.
2. Introduction
NZJQ series submersible slurry pump is mainly made of three parts: pump head, electric motor, and sealing parts. The hydraulic part adopt advanced design way.The pump's prepositon agiator impeller can spray sedimentary and warp into high concentration slurry.
Advantage:
The coaxial electric motor and pump submerged into water to work;
prepositon agiator impeller can spray sedimentary and warp into high concentration slurry;
High abrasive resistance high chrome alloy wear parts;
Wide channel,big flow capacity to allow bigger particles;
Clean the slurry completely because of electric motor and pump submerged into water to work without suction head limit.
3. Model Explanation
100NZJQ-50-26
100: Outlet Diameter
N: Our company(Norman)
ZJ: Slurry Pump
Q: Submersible type
50: Capacity(m3/h)
26: Head(m)
NZJQ series submersible pump

performance chart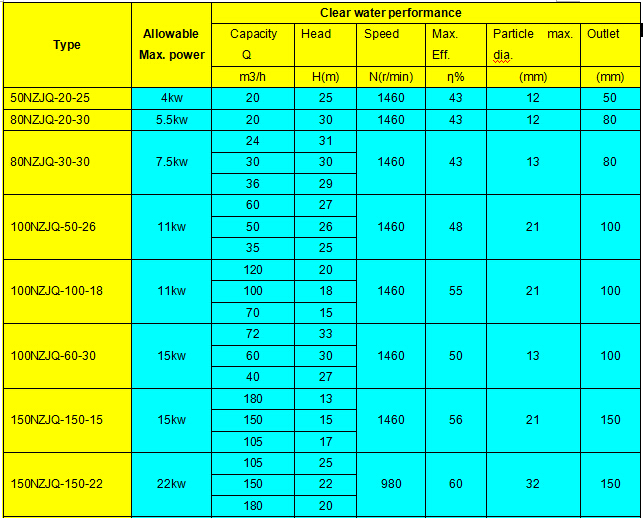 Note: This performance chart is just for reference. Our company can select more types from this series according to customer's requriments.
Application


NZJQ series submersible slurry pump is used for metallurgy, chemical, mine, coal, power, building, civil environment protection and river dredging for transferring sand and gravel, coal slag and tailings slurry with abrasive solid particles.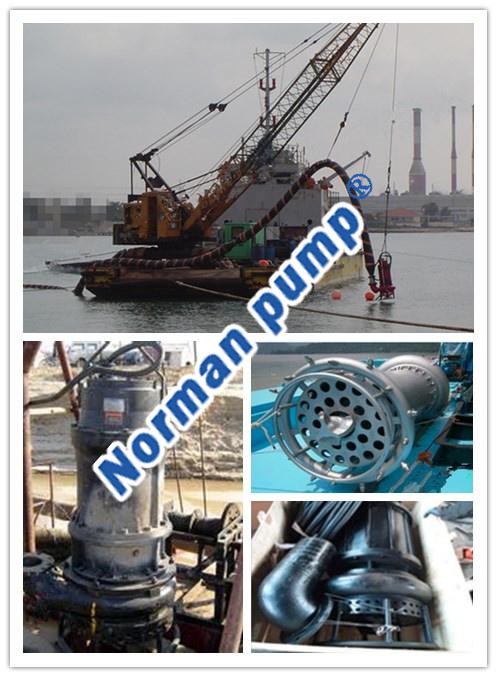 NZJQ submersible pump is used in dredging sand from sea in Nigeria.