1. General Description
NHR Series slurry pump is mainly used for handing strong abrasive, high density slurries and low density, high head slurries in the metallurgical, mining, coal, power, building material and other industry.
Transport the abrasive corrosive slurry with high concentration, PH 3-14, liner natrual rubber, Polyurethane, Neoprene or Buna-N material.
2. Introduction
The frame plate liners for NHR series pumps have replaceable wear-resistant rubber liners. The impellers are made of natural rubber liners. It has nearly the same constructure with NHM.
Bearing assembly use cylindrical structure, which helps adjust the space between impeller and cover plate liner easily, and being removed completely when being repaired. Bearings use grease lubrication.
The shaft seal could use the packing seal, centrifugal seal and mechanical seal. The discharge side can be positioned at intervals of 45degrees by request and oriented to any eight positions to suit installations and applications.
Here are the drive types, such as V belt drive, gear reducer drive, fluid coupling drive, and frequency conversion drive devices.
Wide performance, good NPSH and high efficiency, the pump of this type may be installed in multistage series to meet the delivery for long distance.
3. Model Explanation
NHR-6E
N: our company(Norman)
H: High concentration
R: Rubber lined
6: Discharge size (inch)
E: Frame type with maximum power
NHR Series Slurry Pump
Performance Chart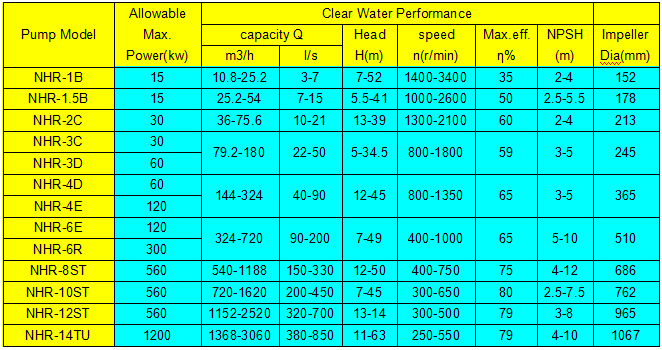 Note: Quantity range recommended:50%Q'≤Q≤100%Q'(Q'Appropriate to capacity at highest efficiency point).
2.NPSH:appropriate to point Q recommended at highest speed.